Is Cloud ERP right for your business?
Cloud
These solutions are accessed via the Internet and are paid for on a subscription basis. The software itself is not owned or licensed by the end user but is provided as a service.
Cloud Solutions
Cloud technology is a game-changer in the ERP industry. It suits many organisations because it offers enterprise-level software at an affordable monthly price and the flexibility to easily scale up and down.
Learn More
On-Premise
Meaning the software is installed on a server physically located at the customer's premises. Most licenses are sold on a perpetual basis and are treated as a capital expense.
On-Premise Solutions
This means the software is installed on a server physically located at the customer's business premises. Most licenses are sold on a perpetual basis and are treated as a capital expense.
Learn More
Hosted
The software is installed on a server hosted by a third party. It could be installed on a dedicated piece of hardware or on a piece of hardware shared by multiple tenants.
Hosted Solutions
Sometimes with this deployment method the software is delivered to the end user on a subscription basis. Learn More
The type of ERP solution that you choose will have a significant impact on your business. Ultimately, the functionality of the system on offer will determine which system you choose. Here are some other considerations when choosing between an on- premise or cloud-based ERP solution.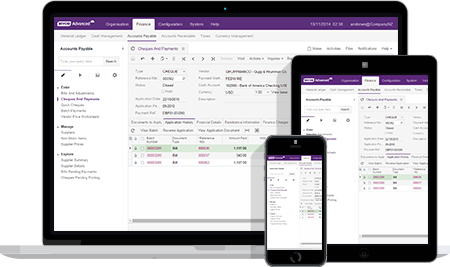 While there is a clear difference between cloud and on-premise ERP solutions there is a third category of deployment known as a hosted (or hybrid) solution. This is essentially an on-premise solution that uses a hosted environment to capture some of the benefits of a cloud-based solution.
Providers of hosted solutions will take care of the base elements of the IT stack in the same manner as providers of cloud-based solutions do, but there are some major differences between the two.
You access cloud solutions via a web browser and the screen adapts and re-sizes depending on what sort of device is accessing the application. To access a hosted solution you will need some remote desktop connection software such as Windows Terminal server to provide a 'window' to the server. Because this provides a window only, the software will not usually interact locally with your machine. This means downloading data into Excel files or storing reports onto your local network can be a challenge. Files are created on the server and emailed or replicated to your local environment.
Also, these windows cannot automatically react to your local changes. For example, if you resize your window to make space on your screen for other programs, the ERP software screen will not wrap around or resize.
In pure-cloud based ERP new versions are released on a regular basis. This means you will always be on the latest software version and getting all the benefits of the new features. There are usually no costs for these updates, although you may choose to have a consultant train you in new features. Any defect fixes are automatically rolled into the software so you don't need to wait for the next major release for issues to be resolved.
In a hosted environment you may have to pay for new software versions to be installed by a qualified technician. There are risks associated with the fact that the hardware and operating systems can vary across different data centres. This can create conflicts and defects that you don't find in a standard
Pure cloud deployments have been designed for full accessibility and for easy integration with other products. Because they are available 24/7, other programs only need the one URL to find them and talk to them.
Hosted environments are usually disparate and provided by certified (or more often un-certified) hosting providers or re-sellers. This means the URLs to find and link to them have to be separately maintained
for each installation. Also, each data centre may have different access protocols and rules to be worked through. Hosted solutions may not have modern and complete interfaces for programmes to talk to and in fact, the integration may have to be specifically written for each application.
The big question: What's right for me?
When you're evaluating ERP systems you will have to consider cost, availability and quality of support. But for most businesses functionality and ease-of-use will be crucial, not whether it's a cloud, on-premise or hosted solution.
Many smaller companies choose cloud-based solutions primarily because this will lessen their dependency on IT resources and give them certainty around cash-flow.
Security is often a concern when deciding between cloud and on-premise solutions. While it can't be said that one deployment is categorically more secure than the other, the fact that business owners can see the server on which their ERP system sits makes them feel more secure.
However, cloud based ERP solutions provide best in class security, server redundancy measures and data and power-supply back-ups through the data centres which host the cloud solutions and provide 24/7 guarded access.
For companies who regularly update their server infrastructure, the total cost of ownership of an on- premise solution will over time be similar to or greater than the sum total of monthly subscription payments for a cloud solution. If a company stays with an old server infrastructure, then the long term cost of an on-premise solution will tend to be less over an extended evaluation period than an equivalent cloud solution deployment.
Book your Free Consultation
Book a consultation to learn how a Cloud ERP solution like MYOB Advanced can help your business grow.