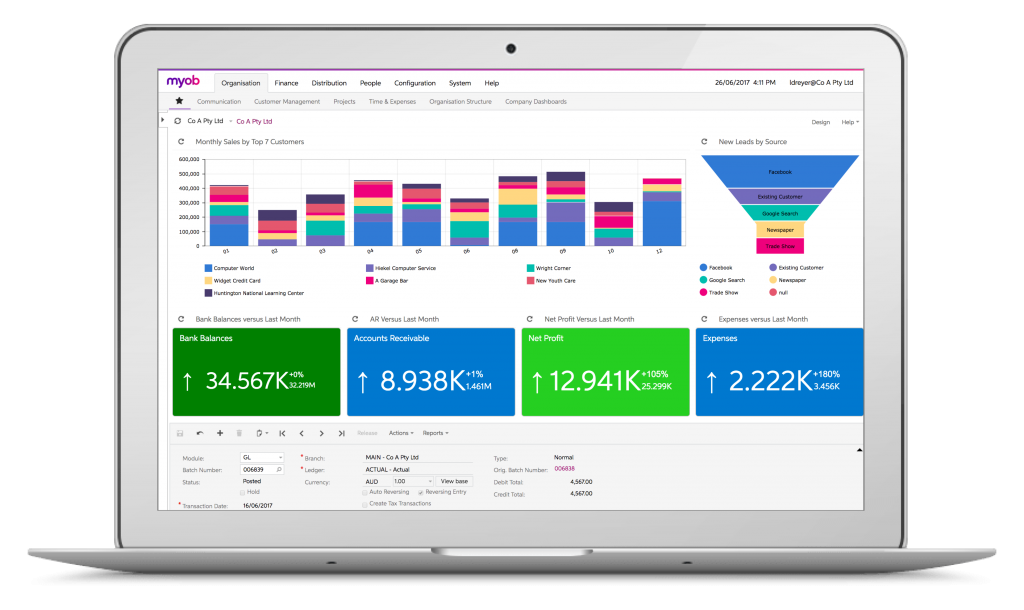 MYOB Advanced Supply Chain Management Suite
The Supply Chain Management Suite is an add-on module to the Financial Management Suite for managing the complexities of distribution such as purchasing, ordering, tracking inventory, filling orders, and delivering customer support.
Our distribution software is integrated with our core financial modules to deliver real-time measurements of profitability by warehouse, product line, location, and business unit. Integration with CRM ensures that your entire organization, from sales to support, has visibility into your distribution processes.
Supply Chain Management Suite Modules
Inventory Management
The Supply Chain Management module provides real-time access to available inventory, inventory in transit, reorder quantities, and inventory costs so you can efficiently manage your distribution process to improve customer satisfaction while maximizing profits. Advanced features such as multiple warehouses, lots, inventory subitems, expiration dates, negative inventory, and bin location ensures that MYOB Advanced can meet your needs.
Purchase Order Management
The Purchasing Management module automates purchasing processes and reduces the cost of acquiring materials. MYOB Advanced automates the entire procurement process from vendor quotes, to issuing purchase orders, receiving orders, creating AP vouchers, and analyzing results. Partial receipts, drop shipments, workflow, and ordering algorithms improve purchasing efficiency.
Sales Order Management
The Sales Order Management module allows you to optimize the way you enter and fulfill sales orders. You can split orders across multiple warehouses, allocate inventory, verify credit limits, issue replenishment orders, accept returns, and more. Integrated workflow with notifications and alerts improves fulfillment processes and improves customer satisfaction.
Requisition Management
The Requisition Management module allows you to organize and simplify complex distribution processes involving multiple products and suppliers. The module optimizes the way you gather requests, obtain bids, create quotes, approve quotes, manage purchases, and fulfill orders for internal or customer consumption.
Warehouse Management (Complementary Solution*)
Unlike many systems which require you to alter your successful business operations to accommodate the deficiencies of the software, the Warehouse Management System was programmed from the ground up to provide optimal flexibility and conformity with your warehouse environment.
The Savant WMS for MYOB Advanced combines solid business principles and state-of-the-art technology to create a powerful and comprehensive automated warehouse management software and distribution solution.
*Complementary Solutions for MYOB Advanced are additional modules from 3rd party software vendors that are licensed separately. They are integrated with MYOB Advanced via the MYOB Advanced API.