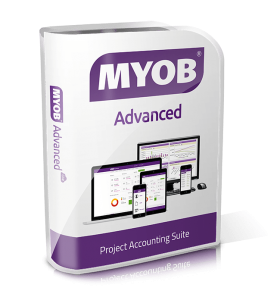 MYOB Advanced Project Accounting Suite
The MYOB Advanced Project Accounting Software Suite manages budgeting, inventory, time sheets, billing, profitability, and reporting for individual business initiatives. You create projects that are included in company-wide financial reports.
Project Accounting Software features are integrated with the general ledger, accounts payable, accounts receivable, sales orders, purchase orders, inventory management, and the employee portal.
Project Accounting Suite Features
Expense Management
Track expenses related to materials, labor, services, and inventory to gain a complete view of project related costs. Allocate shared costs and overhead expenses to projects based on formulas that you establish.
Advanced Billing
Manage all billing scenarios including cost plus, fixed price, time & materials, milestone billing, and contract specific pricing. Modify resource billing rates by project, project tasks, inventory item, employee, and account group. This provides the flexibility to bill labor and materials according to the customer, the type of work being performed, or the specific project contract.
Multiple Rates
The ability to configure multiple, distinct rate tables based on specific projects or project tasks delivers additional billing flexibility.
Budget Tracking
Project accounting budgets can include inventory items, non-stock items, labor, services, and more. Real-time reports compare actual project costs with original and revised budgets.
Time and Expense Tracking
MYOB Advanced's Project Accounting Software improves the accuracy of employee time sheets by making the process more convenient. Employees, partners, and contractors can enter time sheets from anywhere using any device with a browser. This allows them to enter information from the office, a client site, or while traveling. The same convenience applies to expense reports.
Streamlined and Unified Employee Time Entry
Now features Time Cards, Time Sheet and Simple Time Cards combined on a single screen. Setup is quick and easy and users can enter data multiple ways from a single screen, making it faster to enter time for employees and equipment.
Resource Management
Assign project managers, employees, machines, and other resources to individual projects and tasks. Establish billing rules and options for each task.